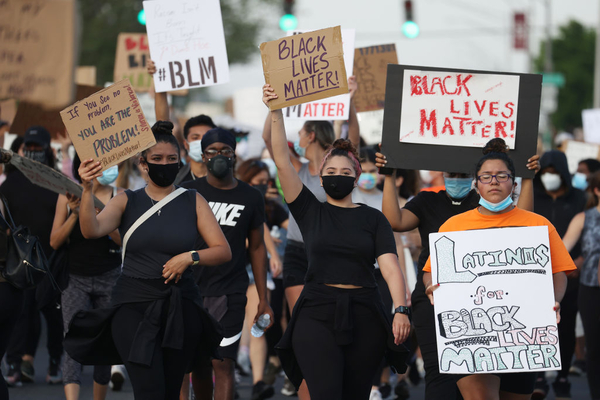 Yes. It would be greatly good if the savage fight now underway between two Muslim armies in Iraq, Sunni and Shia, could end in the destruction of both.
We quote from an article at American Thinker, by Mike Konrad, who argues the desirability of leaving the two sides to fight it out:
I know, I know, the recent ISIS (Islamic State of Iraq and Levant) gains have everyone scared. No doubt, the Islamophilic administration will want to step in, and save Islam from itself once again.  Let me advocate a course of action that will make sense to all sides in America; the left and right; from militarists to pacifists: Let the Muslims kill each other. …

ISIS is presently a large group of thugs with guns. They have no navy, no air force, except for a few captured helicopters, which they will soon break.  The only ones they can threaten are their fellow Muslims. If they take over Iraq, who cares? They will soon reduce the Levant to the seventh century.

And this is a problem to us? OK, oil prices may spike for a while, but they are going to need to sell their oil because they've got nothing else to produce for export and can't produce any of the fruits of modern industry. Meanwhile, the high prices will encourage domestic drilling and production of our nearly boundless reserves held in shale deposits, to the point where we will become a major oil exporter ourselves.

These mujahadeen are incapable of maintaining the weapons they already have. Weapons need upkeep. Weapons have to be oiled, cleaned, and upgraded.  Upkeep interferes with raping, pillaging, and chopping off heads. Within two years, they will be slaughtering each other with scimitars and rusty AK-47s.

Iraq's president, Maliki has asked for US assistance. Oh really?

Iraq insisted on setting up its country with an Islamic constitution; against our advice, and now he wants American help. For what? So Iraq's Shia can continue to run arms to Syria and Hezb'allah in Lebanon?
We'd rather President Maliki wasn't helped at all, but we like the idea of putting these conditions on any help he gets from the US:
If our State Department had men and women with intelligence instead of a love of the Qur'an, they would tell Maliki that our help would be predicated on four conditions:

1) Get rid of the Islamic constitution, and set up a secular state

2) Recognize Israel

3) Naturalize the Palestinians in your state

4) Break off ties with Iran

If Maliki says no, we say "Fine, have your Islamic state. We are not going to decide which flavor."
Whether Maliki agrees or not, he loses:
He has no choice. No matter what he decides, the West wins. Should ISIS take over, Iran will be cut off from land routes to Syria's Assad, and Lebanon's Hezb'allah. How does this hurt the West?

Sure! Iraq may go down. The Sunni officers in the Iraqi army will not fight for a Shia majority Iraqi state. In fact, many Sunni officers are already joining ISIS. The Shia, who are mere foot soldiers, are not prepared to fight the better trained Sunni. So what?

When thieves fall out, honest men prosper. When Muslims fall out, civilization prospers. …

Now, Iran is scared. …

Iran sent two battalions of Iranian Revolutionary Guards to help the Iraqi government in its battle against the Islamic State in Iraq and the Levant (ISIS). Not to put too fine a point on it, but this is hugely important, if not totally surprising given Iran's intervention in Syria. Iran has the power to crush ISIS in open combat. But Iranian intervention could also make the conflict inside Iraq much worse …

Iran is hurting. Iran may have to decide between arming Hezb'allah or the Shia in Iraq. And this hurts the West how?

Other sources are reporting that Iran has called for international assistance to crush ISIS. Iran needs our help!  The nation which has thumbed its nose at the West for 35 years, now wants our help?

Iran officials call for international response to ISIS violence …

Let them ask for Russian help, or Chinese assistance. I am sure the Russians and Chinese will be more than happy to make their nations targets for Islamic revenge. Nothing makes Muslim group A angrier than knowing that you have helped Muslim group B. And if the Russians or Chinese do intervene, good for them. Maybe international terrorism will re-direct their wrath eastward. Tell them it will be like the Chechnyans on steroids.

If Iran is really desperate to save its supply lines across Shia Iraq to save Assad, we could strike a deal.

You want our help. We want the Israelis to inspect your nuclear power plants; or you can go fight your fellow Muslims yourselves. Tell them, "Remember the first Iraq-Iran war." Make the offer public. No help until the first Israeli technician comes out of the Isfahan plant and says, "All clean."

Tell them up front they have to stop aiding Hezb'allah. Tell them that we are enjoying this.

At the same time, we should encourage all Euro-Muslim males to join the fight, and when they are gone, revoke their right of return to the West. Tell them, Allah Wants You; and send them off with halal meat and enough weapons to keep the Mideast in turmoil for another hundred years.

Why is this a problem? Even if ISIS wins the Caliphate, it will revert to seventh century technology soon enough.

Jordan is scared, now. She might be overrun. Supposedly, she is a Western-oriented state, which has the rudimentary forms of a democracy. Of course, honor killing and wife beating are still not prohibited; and Jordan refuses to take in more Palestinians.

If they want our help:

1) Saudis and Jordanians have to start naturalizing Palestinians

2) Set up truly secular states

3) protect their women

Be upfront about it. Of course, they won't agree. So let them shoot it out. When the Mideast is a flaming wreck, the administration should encourage Putin or China to intervene.  Nothing sinks empires faster than trying to tame the Muslims. We will get out, and avoid our own collapse.

If our administration intervenes in any way, it would be foolish. Over the past two years our administration has made blunder after blunder in the Mideast, regarding Libya, Morsi, Sisi, Arab Spring, etc.

This time it is so easy.

All the administration has to do is …  NOTHING!

It is that simple. … If it does intervene, it will be clearly seen as an attempt to prop up Islam, once again.

Let the Shia and Sunni kill each other.  In the words of the late Mayor Ed Koch, "root for whoever is losing."
We like Mike Konrad's suggestions. (And we understand that he is not being wholly serious.) But more needs to be considered.
There is the strong possibility, astonishing though it may seem at first, that fanatically Shia Iran has been giving aid to the Sunni insurrectionists – as well as the Shia government – in Iraq. Why ? In order to bring about upheaval and chaos, so the mullahs will be called upon to restore order.
Another surprise: it is the Obama administration itself which has made this information public – that Iran has assisted the Sunni insurrectionists.
Paul Mirengoff writes at PowerLine:
A mere six weeks ago, the State Department's annual Country Reports on Terrorism concluded that Iran is actively working to undermine Iraqi stability through terror groups. Significantly, for present purposes, the report assessed that Iran was facilitating both Shiite and Sunni terror activities.

With respect to Sunni terrorism, the State Department said this:

Iran allowed al Qaeda (AQ) facilitators Muhsin al-Fadhli and Adel Radi Saqr al-Wahabi al-Harbi to operate a core facilitation pipeline through Iran, enabling AQ to move funds and fighters to South Asia and also to Syria. Al-Fadhli is a veteran AQ operative who has been active for years. Al-Fadhli began working with the Iran-based AQ facilitation network in 2009 and was later arrested by Iranian authorities. He was released in 2011 and assumed leadership of the Iran-based AQ facilitation network.

In addition, of course, Iran has "trained, funded, and provided guidance to Iraqi Shia militant groups" both inside and outside of Iraq. The training has included instruction in "the construction and use of sophisticated improvised explosive device technology and other advanced weaponry."

The terrorist activities of the Iran-supported Shia militants have undermined stability in Iraq and undermined support for the government among Sunnis. But, again, Iran is destabilizing Iraq from both ends by also facilitating Sunni terrorism.

If anything, Obama should be punishing the Iranians by continuing, and indeed escalating, a sanctions regime. Instead, he seems determined to cozy up to the mullahs. In all likelihood, this means granting them additional concessions when it comes to negotiations over Iran's nuclear weapons program. Why else would Iran help the U.S?

The mullahs have always understood that an unstable Iraq not only can't threaten or complete with Iran, but may well be forced to become a virtual client, as might now happen. But the mullahs could only have dreamed that an unstable Iraq would cause an American president to come before them as a supplicant.

Yet this too may now be about to happen.
And still another surprise. Amazingly, for once we find points to agree with in an opinion from the Left:
Among many assertions in the same column which we do not agree with, Richard Cohen, columnist for the Washington Post, writes some that we find ourselves nodding at:
Whose fault is the current debacle in Iraq?

It could be Nouri al-Maliki's since he is the country's strongman and has alienated the minority Sunnis.

It could be George W. Bush's because he started the whole thing off …

The one person who is not at fault, we are told over and over again, is the current president of the United States. …
But with that he does not agree. He takes Obama to task for his failure to do anything effective against the gassing of Syrians by Bashar Assad:
Foreign policy [is] the area where a president's power is substantially unchecked. … Other than avoiding war, it's hard to know what Obama wants. I know what he says, but actions always speak louder than words.

For instance, he wanted Bashar Assad to cease using chemical weapons. His language was strong, nearly warlike.

"Assad's government gassed to death over a thousand people, including hundreds of children. The images from this massacre are sickening: Men, women, children lying in rows, killed by poison gas. Others foaming at the mouth, gasping for breath. A father clutching his dead children, imploring them to get up and walk."

What happened next? Virtually nothing.

All those poisoned kids were soon forgotten and so, too, were all those people killed in the war, perhaps as many as 200,000. Those of us who advocated more forceful action were denigrated as war lovers who wanted to send in the infantry. (Better boots on the ground than head in the clouds — but I prefer neither.)
He disagrees with Mike Konrad's idea that nothing at all should be done about the war in Iraq:
Airstrikes and such might not have worked, but doing nothing never does.

This is a serious, depressing discussion. Countless lives have been lost. A civil war that might have been stopped in its tracks was allowed to fester. The Syrian dictatorship survived and the war has spilled into Iraq. It has the potential to engage the whole Middle East — Jordan, for sure, and then that tiny nation west of the Jordan River: Israel. The madmen of the Islamic State of Iraq and Syria don't only kill Muslims; they would gladly drop a bomb on Tel Aviv.
Right. But he doesn't say that the bomb could be nuclear. And that two, or twenty, could be dropped on Israel.
Or that there could be targets in Europe, or even in America, since the mullahs have long-range missiles.
He rightly finds the idea of the US and Iran being in alliance "preposterous":
The U.S. may now find itself on the side of Iran — a majority Shiite nation much like Iraq. What could be more preposterous? What could be more ironic?

Worse, we could find ourselves engaged in a religious war — Sunni vs. Shiite. …
He fears non-intervention more than involvement:
Or maybe we should just wash our hands of the whole thing and turn over a hunk of the Middle East with its oil to a terrorist organization — one that boasts of committing massacres. …

You thought you can't get more evil than al-Qaida? Look at who's pillaging Iraq, a terrorist group that even al-Qaida can't stomach. …

The one thing we do know is that things can get worse. They did in the Middle East, where Obama settled for a victory jog around the political infield after getting Assad to give up most of his chemical weapons. He now must deal with a region that is so much worse than anyone imagined.

Where does the fault lie? Where it always has — where the buck stops.
By which presumably he means Obama. He means that the fault lies with Obama!
How many members of Obama's enormous media fan club, or of the Democratic Party, find him at fault over the carnage in Syria and Iraq, we wonder.
And will their disapproval induce Obama to act?
If so, how? Richard Cohen expresses his disgust, or frustration, or irritation – but he doesn't say what Obama should do.
We say Iran should be stopped by all possible means, late though it is to take action, from becoming a nuclear power. And that is obviously not what Obama intends or wishes to do.
"Condemn" is a very strong word in diplomat-speak. It's the word most American presidents would apply only to the activities and policies of hostile and extremely delinquent states.
Obama is applying it to Israel.
What has Israel done that is very wrong? Let's see.
Not long ago it reluctantly agreed under American pressure to suspend building new houses for Jewish occupants on the West Bank, but expressly excluded Jerusalem from the agreement, and the exclusion was accepted by Obama's State Department.
So when it announced recently that planning permission has been given for some additional apartments in an area to the north of Israel's capital city, Israel did not expect an objection to be suddenly raised. The development, begun a dozen years ago, does not and will not encroach on any Arab neighborhood. Nobody has objected to it before. The ground had not previously been in use for housing or anything else. Some 18,000 Jews live there now with families growing up. There are normal needs for expansion of accomodation.
But because the piece of wasteland was taken in a war waged against Israel in 1948, and held until 1967 by the British-created state of Jordan, Obama wants it to be rid of its Jewish residents and kept in reserve to be "returned" to Arab possession when there is a state of Palestine.
So the routine announcement that long-planned building in that part of Jerusalem will go ahead has been taken by Obama to be such an insult "to America" that Israel must be condemned for it. The result is a crisis of relations between the two countries.
We contend that the announcement was a handy excuse; that the crisis was engineered; that any pretext would have done.
But what is it Obama needs a pretext for?
Caroline Glick's answer is this:
Why has President Barak Obama decided to foment a crisis in US relations with Israel? …

Obama's new demands follow the months of American pressure that eventually coerced Netanyahu into announcing both his support for a Palestinian state and a 10-month ban on Jewish construction in Judea and Samaria. No previous Israeli government had ever been asked to make the latter concession.

Netanyahu was led to believe that in return for these concessions Obama would begin behaving like the credible mediator his predecessors were. But instead of acting like his predecessors, Obama has behaved like the Palestinians. Rather than reward Netanyahu for taking a risk for peace, Obama has, in the model of Yasser Arafat and Mahmoud Abbas, pocketed Netanyahu's concessions and escalated his demands. This is not the behavior of a mediator. This is the behavior of an adversary. …

Obama's assault on Israel is likely related to the failure of his Iran policy. Over the past week, senior administration officials including Gen. David Petraeus have made viciously defamatory attacks on Israel, insinuating that the construction of homes for Jews in Jerusalem is a primary cause for bad behavior on the part of Iran and its proxies in Iraq, Afghanistan, Lebanon, Syria and Gaza. By this line of thinking, if Israel simply returned to the indefensible 1949 armistice lines, Iran's centrifuges would stop spinning, and Syria, al-Qaida, the Taliban, Hizbullah, Hamas and the Iranian Revolutionary Guards would all beat their swords into plowshares. …

Even more important than its usefulness as a tool to divert the public's attention away from the failure of his Iran policy, Obama's assault against Israel may well be aimed at maintaining that failed policy. Specifically, he may be attacking Israel in a bid to coerce Netanyahu into agreeing to give Obama veto power over any Israeli strike against Iran's nuclear installations. That is, the anti-Israel campaign may be a means to force Israel to stand by as Obama allows Iran to build a nuclear arsenal. …

Obama … seeks to realign US foreign policy away from Israel. Obama's constant attempts to cultivate relations with Iran's unelected president Mahmoud Ahmadinejad, Ahmadinejad's Arab lackey Syrian dictator Bashar Assad, and Turkey's Islamist Prime Minister Recep Tayyip Erdogan make clear that he views developing US relations with these anti-American regimes as a primary foreign policy goal. …

[And] he  is using his manufactured crisis to justify adopting an overtly anti-Israel position vis-à-vis the Palestinians. …

Likewise, the crisis Obama has manufactured with Israel could pave the way for him to recognize a Palestinian state if the Palestinians follow through on their threat to unilaterally declare statehood next year regardless of the status of negotiations with Israel. Such a US move could in turn lead to the deployment of US forces in Judea and Samaria to "protect" the unilaterally declared Palestinian state from Israel.
General Petraeus has even suggested putting the "Palestinian territories" under his central command.
We don't believe the Palestinians' threat. If they declare a state they'll need to declare its boundaries, and if the boundaries do not embrace the entire state of Israel plus Gaza plus Judaea and Samaria, they'll  be acknowledging the right of Israel to exist. Borders have two sides. "This side  the State of Palestine; that side the State of Israel". The pretence of their now being willing to settle for a "two-state solution"  – when they've been rejecting such a thing for more than six decades – would instantly be exposed as the lie it is.
But Obama wants there to be a Palestinian state. And if it cannot, because it will not, be a second state in the region, will he then insist that it should be the only state?
We see no reason why there should be a 22nd Arab state.
We see no reason why the 21 existing Arab states shouldn't assimilate the refugees of the Palestine region just as Israel assimilated the Jews who were expelled by the Arab states in 1948.
We see no reason why Jews shouldn't live in Arab/Muslim countries just as Arabs/Muslims live in Israel, with full voting and property-owning rights, paying the same taxes, protected by the same laws equally.
We would be happy to see only one state in the region – the State of Israel, not Palestine.
But Obama, and the huge bloc of Islamic countries, and Europe, and Russia, have a vision of a 22-state Arab judenrein Middle East.
If America withdraws diplomatic support, as it is likely to do now; if Iran, bent on destroying Israel, is soon to be nuclear armed with Obama's consent; and if, in addition, American forces are to be sent to the West Bank to aid Palestinian forces against their Israeli enemy as has been proposed, how good is Israel's chance of surviving?
Here's Hillary Clinton's cunning plan for saving the world from a nuclear-armed Iran:
First, convince the Saudis that the Revolutionary Guards are effectively taking over the government of Iran and so turning the country into a military dictatorship.
Next, persuade the duly frightened Saudis, who'll want urgently to stop this development, to threaten China over oil supplies.
Then, a thoroughly cowed China will agree to support sanctions against Iran.
Finally, sanctions supported by China will stop Iran becoming a nuclear-armed power.
Yeah, sure, that will do it. No ordinary diplomacy this; this is smart power.
Yet the Saudis, it seems, are not keen to play their part in the brilliant scheme.
The Washington Post reports:
Iran is increasingly acquiring the attributes of a "military dictatorship," Secretary of State Hillary Rodham Clinton asserted repeatedly Monday, pointing to how the Islamic Revolutionary Guard Corps has grabbed ever-larger chunks of the country's economic, military and political life.

Clinton's statements … were clearly a calculated effort to stir the waters in the administration's stalled effort to win support for new sanctions on Iran over its nuclear ambitions.

Clinton appeared to be trying both to sound the alarm within Iran about the Guard's increased influence — perhaps hoping to drive a wedge between the Guard and the rest of the political elite — and to sow doubts about the nature of Iran in nations that are wary of additional sanctions, such as China and Brazil. …

U.S. officials have said they plan to target the sanctions at the Guard, which is heavily involved in Tehran's nuclear and missile programs, because such tactics would damage the nation's power structure while in theory not affecting many ordinary Iranians. Clinton suggested that the sanctions being contemplated are also designed to thwart the growth of the Guard's role in Iran's internal political dynamics.

"That is how we see it," Clinton [said]. "We see that the government of Iran, the Supreme leader, the president, the parliament is being supplanted and that Iran is moving toward a military dictatorship." …

Although the Obama administration has repeatedly said it does not seek to meddle in Iranian politics, Clinton suggested that Iran's elected leaders — long at odds with the United States — needed to take action. She said the current political climate is "a far cry from the Islamic republic that had elections and different points of view within the leadership circle."

At a news conference with Saudi Foreign Minister Saud al-Faisal, she said she hoped "that this is not a permanent change but that the religious and political leaders of Iran act to take back the authority which they should be exercising on behalf of the people."

Similarly, she told reporters that "the civilian leadership is either preoccupied with its internal political situation or is ceding ground to the Revolutionary Guard" as it tries to contend with opposition protests. She said that whether the country changes course "depends on whether the clerical and political leadership begin to reassert themselves."
And if they did, everything would be different? They'd give up the nuclear program? Stop threatening the destruction of Israel? Become firm allies of the United States? They've given clear evidence, have they, that this is how they're thinking, these clerical and political leaders, the mullahs and Ahmadinejad? They've shown themselves to be trustworthy authorities exercising power 'on behalf of the people'?
Anyway, King Abdullah gave Hillary a jolly good lunch.
Clinton spent 5 1/2 hours at Abdullah's desert compound, about 60 miles northeast of the capital, Riyadh. After an opulent lunch, they spoke for nearly four hours on a range of issues, including Afghanistan, Yemen and the Israeli-Palestinian conflict. But Iran dominated the discussion.

A key roadblock to robust sanctions is China, which has deep economic and energy ties to Iran. The Obama administration has pressed Saudi Arabia, China's top oil supplier, to put pressure on Beijing. Iran is China's No. 3 supplier of oil.

After the talks, Saud [al-Faisal] appeared lukewarm about the effectiveness of sanctions. "They may work" in the long term, but the Saudis are anxious in the short term because they "are closer to threat," he said…. [H]e was sure that China took its role as a permanent member of the U.N. Security Council "very seriously" and that "they need no suggestion from Saudi Arabia to do what they ought to do."
So perhaps the plan won't work after all.
To sum up, Hillary Clinton and the Obama administration are achieving nothing, getting nowhere with Iran.
In fact, so feeble are the efforts they're making, observers might wonder if Obama really wants to stop Iran becoming a nuclear power.