If it is true, as many say, that the Supreme Court refused to hear cases against the validity of Joe Biden's electoral "win" because they feared the packing of their court by angry vengeful Democrats, then they made a stupid decision. Obviously, they should have  done their utmost to keep the Democrats out and keep President Trump in. That would have been the certain way of protecting their numbers. It doesn't make sense that they helped the party into power which would probably do what they fear – pack the court with judges likely to favor the Left.
THEY (not including the great and wise Justice Thomas) favored the Left. And now their court is very likely to be packed with Leftist judges.
Matt Margolis reports at PJ Media:
"Wouldn't it be ironic if the Supreme Court of the United States, after showing that they didn't have the courage to do what they should have done on the Great Presidential Election Fraud of 2020, was PACKED by the same people, the Radical Left Democrats (who they are so afraid of!), that they so pathetically defended in not hearing the Election Fraud case," Trump asked.
"Now there is a very good chance they will be diluted (and moved throughout the court system so that they can see how the lower courts work), with many new Justices added to the Court, far more than has been reported," Trump continued. "There is also a good chance that they will be term-limited."
Trump then pointed out that there were 19 states with election challenges that were not heard by the Supreme Court. "Believe it or not, the President of the United States was not allowed to be heard based on 'no standing,' not based on the FACTS," he said. "The Court wouldn't rule on the merits of the great Election Fraud, including the fact that local politicians and judges, not State Legislatures, made major changes to the Election—which is in total violation of the United States Constitution."
Just last month, a judge ruled that Michigan Secretary of State Jocelyn Benson, a Democrat, broke state law when she unilaterally changed election rules by loosening the signature verification requirement for absentee ballots in the 2020 election. This ruling legitimizes a key claim made by the Trump legal team in its challenges to the 2020 election. Michigan Court of Claims Chief Judge Christopher Murray ruled that this change violated Michigan's Administrative Procedures Act.
"Our politically correct Supreme Court will get what they deserve," said Trump. "An unconstitutionally elected group of Radical Left Democrats who are destroying our Country. If and when this happens, I hope the Justices remember the day they didn't have courage to do what they should have done for America."
So what the decisions amount to is an implicit statement to the Junta in power, "Don't add more justices- no need – look, we are already left-biased"?
But if the court is already left-biased, why would they object to the addition of a few more Leftists?
No. None of it makes sense!
Clifford C. Nichols writes at American Thinker:
Rarely do the generation experiencing the actual events and decisions that lead to their nation's demise fully appreciate the enormity of their oversight until sometime after their culture's destruction has been rendered incurable.  Largely, it is not due so much to their negligence as it is to most of them being too preoccupied with simply living and making a living.
Perhaps that would explain why, in just the first four months of 2021, the Supreme Court issued four decisions — or, perhaps better viewed as non-decisions — that should have caused all legitimately patriotic Americans to be alarmed and called to action…but did not seem to.
Only a few weeks ago, without offering any substantive explanation, the Court summarily refused to even look at — much less seriously consider — any of the evidence of the 2020 election irregularities offered by attorney Sidney Powell and others.  Evidently, the Supreme Court of the United States of America was not interested in doing what it could — and should — to let America know decisively whether or not its presidential election had been shamelessly stolen by those now in power.
Why would they not do this?
Perhaps the answer is best revealed by the fact that, at the same time, the Court was also apparently too busy to halt a New York prosecutor from obtaining former president Trump's tax returns.  The practical effect was for SCOTUS to give that prosecutor an assist with his unconstitutional effort to search for any crime that might make President Trump's ouster from office permanent.
Clearly, these two SCOTUS decisions alone evidence the fact that the agenda of the justices has become politically driven.
It doesn't end there.
Two weeks later, the Supreme Court — again without explanation — summarily refused to reverse the D.C. Circuit Court of Appeals' denial of Judicial Watch's request that it be allowed to take the deposition of a member of this country's ruling political elite — Hillary Rodham Clinton.  At the end of the day, Judicial Watch was only asking the Supreme Court to uphold the rule of law by finding that all Americans — including elites like Hillary Clinton — are to be treated equally under the law.  Instead, the Supreme Court unfortunately — and inexplicably — declined the opportunity to do even this.
Then this week, SCOTUS put the final nail in the coffin containing the GOP's 2020 election disputes with its denial of a petition for a writ of certiorari in Bognet v. Dagraffenreid.  Again, it refused to rule on whether a state's courts are qualified or not under Article 2, Section 1, Clause 2 of the Constitution to modify that state's presidential election laws.  In short, whether Pennsylvania's Supreme Court violated the U.S. Constitution by usurping the state Legislature's authority to extend the time allowed for counting mail-in ballots is apparently not an issue worthy of this SCOTUS's time.
From such glaring displays of indefensible Supreme Court inaction, the following incontrovertible truths have been set out in plain view before the nation's very eyes:
1. The Supreme Court today is thoroughly politicized…and thus corrupt.
2. In America, the rule of law is now dead.
3. Worse yet, by these decisions, America's Supreme Court has put on open display its utter disregard — and absolute contempt — for whatever the American people may think about the future unavailability of equal justice in a nation that once promised that such justice would be available to all. …
An American government unleashed from the constraints set in place by the rule of law can be headed in only one direction: toward some form of centralized dictatorship limited only by the whims of those in power — i.e., a tyranny.
But will the half of America that does not want a Leftist tyranny now simply accept it?
Has the Supreme Court intentionally  – or unintentionally which would mean, in this case, stupidly – helped create a state of passionate division that nothing short of civil war can settle?
Has it sentenced America to civil war?
The Supreme Court had a moment in which it could have saved the Republic from tyranny. An opportunity for glory. But it shirked it. Shrank from it. Failed the nation, failed the Founders, lost its way.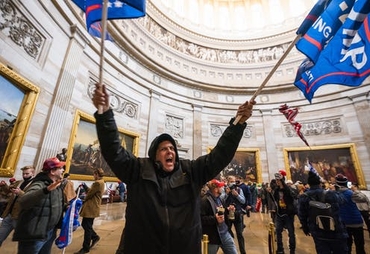 Who stormed the Capitol on Wednesday, January 6, 2021? Was it mostly a Trump supporting mob, or Antifa?
Antifa were there, bused into D.C. in four buses with a police escort according to this witness [is he credible?]:
Chuck: ANTIFA being escorted into DC by police ahead of Jan 6th MAGA Stop The Steal rally. pic.twitter.com/PBqqXIU87N

— Steven Diana (@Mini_Collective) January 4, 2021
And reputed Antifa/BLM protestors were noticed inside the building. But it is almost certain that the invaders were overwhelmingly Trump supporters.
Whoever initiated the incursion, whoever joined it for political reasons, made a tactical mistake if also a moral one*.
To occupy a parliament building in order to bring down a government successfully, you need to be an army. Like Oliver Cromwell's. Otherwise it is a mere gesture.
Even a mere gesture can cause serious harm. This one did. It was lethal.
Matt Margolis writes at PJ Media:
It's hard not to see the hypocrisy of the left when they act surprised or condemn what happened at the U.S. Capitol on Wednesday. In June 2020, in the aftermath of the nationwide rioting following the death of George Floyd at the hands of a Minneapolis police officer, Kamala Harris even gleefully predicted that the rioting wouldn't end, telling Stephen Colbert, host of "The Late Show," that they shouldn't end:
They're not going to stop. They're not going to stop. This is a movement, I'm telling you. They're not gonna stop. And everyone beware because they're not gonna stop. They're not gonna stop before Election Day and they're not going to stop after Election Day. And everyone should take note of that. They're not gonna let up and they should not.
The protests Kamala Harris spoke of were responsible for an estimated $1 – $2 billion in property damage between May 26 and June 8, 2020, and dozens of deaths …
What would happen if Trump said of the protestors who stormed the U.S. Capitol Wednesday, "They're not going to stop. They're not going to stop. This is a movement, I'm telling you. They're not gonna stop. And everyone beware because they're not gonna stop. They're not gonna let up and they should not."
But Trump never said anything like that. In fact, Trump urged his supporters to go home.
He said:
I know your pain, I know your hurt. We had an election that was stolen from us. It was a landslide election, and everyone knows it, especially the other side. But you have to go home now. We have to have peace. We have to have law and order. …  We don't want anybody hurt.
Stephen Green writes also at PJ Media:
It's difficult to be glib about the news after a day like yesterday, so today's Insanity Wrap will be less of a wrap-up and more of a lament.
Four people are dead.
So many of us told you something like this was inevitable after Antifa/BLM was allowed for months to get away with their anarcho-communist brand of street thuggery. …
Still, the timing and location came as a shock.
It remains to be seen whether yesterday's deadly riot represents a one-off venting of political frustration or a sea-change in that the Right will from now on operate more like the Left does.
And Stephen Green writes again at PJ Media:
The first thing I noticed while scanning the news was that virtually every conservative commenting on the situation was condemning the violence. Immediately. That stood in stark contrast to high-ranking Democrats and their flying monkeys in the mainstream media spending all last summer telling us that things were peaceful while we were staring at burning buildings. …
Conservatives like me have been radicalized by the Democrats and media pathologically lying about us for so long. Now we know that mainstream Republicans are going to try and marginalize us.
Here's the thing though: there are a lot more of us than either side realizes.
So keep not getting why Trump got elected in the first place, people. Keep blaming factors that had nothing to do with his popularity. Keep selling out, Republicans. It just makes our long game easier.
We're not going away.
We agree most closely with Mark Steyn:
*We're not sure that it was a moral mistake on the part of the invaders. As Trump supporters, they had of a  lot of immorality and illegality to protest about, and where should they show their anger but to the government that caused or at least permitted the offenses? The woman who was shot was killed by a police officer over-reacting to the mass incursion. The police officer's action was certainly immoral, but were the invaders to blame for his or her decision to shoot? And – according to the reports we can find – the other three who died lost their lives through natural causes, having attended the rally voluntarily.
What is disgraceful is that Congress is so poorly guarded.
Obama claims that the eight years of his presidency were free of scandal. In fact, the scandals were many and appalling.
Obama claims to have stopped Iran becoming a nuclear power. In fact, he entered into a deal that permitted Iran to become a nuclear power.
Obama claims to have improved race relations. In fact, he worsened them. 
Obama claims to have launched an economic boom. In fact, he never achieved even 3% GDP growth.
In sum, he was a weak and destructive president. The harm he did would not be easy to repair, and America is lucky to have found the man to succeed him who could not only mend what he had broken, and is doing so, but is going much further, turning the failure round and achieving success. Even some unprecedented successes. And all in record time.
Obama sees the repair as an undoing of the changes he wrought. As he puts it, "The status quo pushes back."
The complaint comes from a speech he made at the University of Illinois in Urbana, Ill., on Sept. 7, 2018, when the university honored him with the Paul H. Douglas Award for Ethics in Government.
The speech he gave on the occasion of receiving the prize included these claims:
Each time we painstakingly pull ourselves closer to our founding ideals, that all of us are created equal, endowed by our Creator with certain inalienable rights; the ideals that say every child should have opportunity and every man and woman in this country who's willing to work hard should be able to find a job and support a family and pursue their small piece of the American Dream; our ideals that say we have a collective responsibility to care for the sick and the infirm, and we have a responsibility to conserve the amazing bounty, the natural resources of this country and of this planet for future generations, each time we've gotten closer to those ideals, somebody somewhere has pushed back. The status quo pushes back. Sometimes the backlash comes from people who are genuinely, if wrongly, fearful of change. More often it's manufactured by the powerful and the privileged who want to keep us divided and keep us angry and keep us cynical because that helps them maintain the status quo and keep their power and keep their privilege. …
To which political party does that last sentence most aptly apply? We say the Democratic Party? But then, the Left has a habit of accusing its opponents of the faults, failings, bad emotions, plots, conspiracies, evil intentions, underhand actions, and failures of which itself is guilty.
Most of you don't remember a time before 9/11, when you didn't have to take off your shoes at an airport.
Did he mention who was responsible for 9/11 and for us having to take off our shoes at an airport? No. Because he never did and never will blame Islam for its acts of terrorism.
Most of you don't remember a time when America wasn't at war, or when money and images and information could travel instantly around the globe, or when the climate wasn't changing faster than our efforts to address it.
A strange combination of references. No one living remembers a time when America wasn't at war, if the Cold War is counted. About the money and images he probably meant "remember a time when they could not …"  And then he throws in as a certainty that there was a time when climate was not changing fast, but it is now.
And this was all before a change. What change? Have the wars stopped?
The only change he almost got right was a change to faster communications than ever before.
He claims that all three factors together brought about this consequence:
This change has happened fast, faster than any time in human history. And it created a new economy that has unleashed incredible prosperity.
Only, of the three phenomena he mentioned, could the faster communications be said to have promoted prosperity.
Actually, he just gabbled nonsense. And all to get in a claim to an "unleashed incredible prosperity" – the prosperity he claims as hid own achievement.
He goes on to say how he rescued the economy from wicked men.
[T]he reckless behavior of financial elites triggered a massive financial crisis, ten years ago this week, a crisis that resulted in the worst recession in any of our lifetimes and caused years of hardship for the American people, for many of your parents, for many of your families. Most of you weren't old enough to fully focus on what was going on at the time, but when I came into office in 2009, we were losing 800,000 jobs a month. 800,000. Millions of people were losing their homes. Many were worried we were entering into a second Great Depression. So we worked hard to end that crisis, but also to break some of these longer term trends. And the actions we took during that crisis returned the economy to healthy growth and initiated the longest streak of job creation on record. And we covered another 20 million Americans with health insurance and we cut our deficits by more than half, partly by making sure that people like me, who have been given such amazing opportunities by this country, pay our fair share of taxes to help folks coming up behind me.
While it is true that employment rose before he left office, his claim that higher taxes (on "people like me") were a formula for prosperity is false. President Trump's tax cuts (for all tax payers) prove it. Furthermore, Obama heavily regulated business, and President Trump's lifting of many Obama regulations has been a factor in creating the very real present economic boom.
And by the time I left office, household income was near its all-time high and the uninsured rate had hit an all-time low and wages were rising and poverty rates were falling. I mention all this just so when you hear how great the economy's doing right now, let's just remember when this recovery started. …
He came on then to his foreign policy.
Even though we took out bin Laden and wound down the wars in Iraq and our combat role in Afghanistan, and got Iran to halt its nuclear program, the world's still full of threats and disorder. …

And even though your generation is the most diverse in history …
Nonsense! No generation is more "diverse" than any other.
… with a greater acceptance and celebration of our differences than ever before, those are the kinds of conditions that are ripe for exploitation by politicians who have no compunction and no shame about tapping into America's dark history of racial and ethnic and religious division. …

[O]ver the past few decades, the politics of division, of resentment and paranoia has unfortunately found a home in the Republican Party.
Remember when a Republican Attorney General refused to prosecute a bunch of white people although they were breaking the law, on the grounds that he would not act against "his  people"? No. Neither do we. But we do recall Eric Holder- Obama's black AG – saying something like that in a case of the Black Panthers …
This Congress has … embraced wild conspiracy theories, like those surrounding Benghazi, or my birth certificate.
The trick: he throws out, in passing, that the (factually accurate) report of his failure to send help to a US ambassador and three servicemen who were killed by Muslim terrorists in Benghazi was a "wild conspiracy theory', and associates it with an unproved, unlikely, and petty story that he was not born in the United States. But the horrible events in Benghazi were proved and profoundly important.
He comes to his own party's wild conspiracy theory:
[The Repulicans in power are] undermining our alliances, cozying up to Russia. What happened to the Republican Party? Its central organizing principle in foreign policy was the fight against Communism, and now they're cozying up to the former head of the KGB, actively blocking legislation that would defend our elections from Russian attack.
And he calls the partial repeal of his unworkable health legislation "sabotage":
Their sabotage of the Affordable Care Act has already cost more than three million Americans their health insurance. And if they're still in power next fall, you'd better believe they're coming at it again. …
He defends the media who gave him uncritical support in all he did, and never stp attacking President Trump. What is indefnsible in his eyes, is Trump hitting back at his media enemies. To do this, he lies again:
I complained plenty about Fox News – but you never heard me threaten to shut them down, or call them enemies of the people.
We did hear that his administration "spied on members of the media, illegally seizing the phone records of Associated Press journalists. Fox News reporter James Rosen called Obama 'the greatest enemy of press freedom in a generation' after being threatened with possible jail time for refusing to reveal one of his sources". (See our quotations from Matt Margolis below.)
Next, he endorses the lie that President Trump sympathizes with Nazis:
We're supposed to stand up to discrimination. And we're sure as heck supposed to stand up, clearly and unequivocally, to Nazi sympathizers.

How hard can that be? Saying that Nazis are bad.
How hard can it be to say that Islamic terrorism is bad? That Communism is bad? Too hard for him, it appeared.
Then comes the most blatantly impudent accusation of them all:
And we won't win people over by calling them names, or dismissing entire chunks of the country as racist, or sexist, or homophobic.
Who, every minute of every day, calls whom "racist, or sexist, or homophobic"? Or all three?
Matt Margolis comments at PJ Media:
Today we saw just how far academia is going to perpetuate the myth of Obama's "scandal-free" administration when he was awarded the Paul H. Douglas Award for Ethics in Government by the University of Illinois. Not since the 2009 Nobel Peace Prize has Obama been so undeserving of an award. But, I submit that this award is even worse than the Nobel Peace Prize he didn't deserve. In 2009, the Nobel committee was at least ignorant of what Obama's record would turn out to be. There is simply no excuse in 2018 for Obama to be receiving an Ethics in Government award. … The Paul H. Douglas Award is now forever tainted.

What, exactly, did the committee at the University of Illinois think Obama did to earn an Ethics in Government award? The Obama years were plagued by scandal and defined by a hyper-partisan government.

Last month I cited six Obama scandals where a special counsel should have been appointed to investigate but was not. Unlike Attorney General Jeff Sessions, Obama's attorneys general, Eric Holder and Loretta Lynch, were partisan lackeys who did everything they could to protect Obama from being held accountable. Obama, Holder, and Lynch knew that if they left the investigating to Republicans in Congress they could write them off as partisan witch hunts and use any and all tactics possible to obstruct and stonewall those investigations, or in some cases, run their own sham investigation that cleared them of any wrongdoing.

I document thirty different scandals in my book The Scandalous Presidency of Barack Obama. Each scandal on its own makes the idea of Obama receiving an ethics award laughable. All of them together make this award blasphemous. From the moment Obama took office he was under a dark cloud of scandal, having been involved in illegal negotiations with [the condemned criminal] Illinois governor Rod Blagojevich to give him a cabinet position in exchange for Blagojevich nominating an Obama-preferred candidate to his vacated Senate seat … yet Obama just received an Ethics in Government award? What a joke!…

There are plenty of well-known scandals that the committee that decided to award Obama had to have been aware of but chose to ignore. There was the Fast and Furious scandal, which involved sending guns to Mexico in the hopes of tracking them to drug cartel leaders. Not only did they lose track of a large number of guns, but one gun was found to have been used in the murder of a U.S. Border Patrol agent. The Obama administration tried to cover it up, and they stonewalled a congressional investigation, resulting in Attorney General Eric Holder being held in contempt of Congress for refusing to turn over documents. Is this what constitutes "ethics in government" to the University of Illinois?

The Obama administration also abused the Espionage Act to target reporters and their sources. They even spied on members of the media, illegally seizing the phone records of Associated Press journalists. Fox News reporter James Rosen called Obama "the greatest enemy of press freedom in a generation" after being threatened with possible jail time for refusing to reveal one of his sources.  Is this what constitutes "ethics in government" to the University of Illinois? …
There were also –
The Solyndra scandal [see here], the Benghazi cover-up, Uranium One, the IRS targeting of conservative groups, the covering up of thousands of deaths of veterans waiting for care at VA hospitals, manipulating intelligence, paying ransom money to Iran, Project Cassandra [see here], spying on Donald Trump, the Hillary email scandal, which I should add, also implicated Obama, who communicated with Hillary via her private email address and used a pseudonym himself.

It's bad enough when Obama claims he was scandal-free. But, when he receives an ethics in government award, it diminishes the meaning of ethics. It's time to stop pretending Obama was scandal-free or ethical. … I've only scratched the surface of Obama's scandalous and unethical presidency. 
The only reason why Barack Obama was elected president was that he was black. He had nothing else to offer. A sufficient number of white Americans voted for him to get him into the White House for no better reason than that they needed to feel good, to prove to themselves, and the country and the world, that they were not "racist".
Barack Obama, for all his expensive education, was ill-informed and strangely ignorant – and he embraced ideologies inimical to America. He seemed not to know how many states there were in the country he governed. He thought Austrians spoke a language called Austrian. He did not know how to pronounce "corpsman". And he was a follower of the Communist "community organizer" Saul Alinsky, and a lackey of the Muslim Brotherhood.
He lied and commanded others to lie. Under his leadership, his party worked an elaborate plot, which it still pursues, to destroy the candidacy and then the presidency of Donald Trump with false and slanderous allegations of treason.
If prizes were awarded for lying, Obama would deserve them all.