Children's Home, Dublin Road, Tuam, Ireland circa 1950. (Courtesy of Catherine Corless/Tuam Historical Society)
This heart-searing story comes from the Washington Post.
In a town in western Ireland, where castle ruins pepper green landscapes, there's a six-foot stone wall that once surrounded a place called the Home. Between 1925 and 1961, thousands of "fallen women" and their "illegitimate" children passed through the Home, run by the Bon Secours ["Good Help"] nuns in Tuam.

Many of the women, after paying a penance of indentured servitude for their out-of-wedlock pregnancy, left the Home for work and lives in other parts of Ireland and beyond. Some of their children were not so fortunate.

More than five decades after the Home was closed and destroyed — where a housing development and children's playground now stands — what happened to nearly 800 of those abandoned children has now emerged: Their bodies were piled into a massive septic tank sitting in the back of the structure and forgotten, with neither gravestones nor coffins. …

The grim findings, which are being investigated by police, provide a glimpse into a particularly dark time for unmarried pregnant women in Ireland, where societal and religious mores stigmatized them. Without means to support themselves, women by the hundreds wound up at the Home. …

Malnutrition and neglect killed many of the children, while others died of measles, convulsions, TB, gastroenteritis and pneumonia. Infant mortality at the Home was staggeringly high. …

Special kinds of neglect and abuse were reserved for the Home Babies, as locals call them. Many in surrounding communities remember them. They remember how they were segregated to the fringes of classrooms, and how the local nuns accentuated the differences between them and the others. They remember how … they were "usually gone by school age — either adopted or dead". …

A 1944 local health board report described the children living at the Home as "emaciated," "pot-bellied," "fragile" and with "flesh hanging loosely on limbs." …
The historian Catherine Corless, who uncovered the septic tank grave, remembers the Home Babies:
"If you acted up in class, some nuns would threaten to seat you next to the Home Babies." … She recalled one instance in which an older schoolgirl wrapped a tiny stone in a bright candy wrapper and gave it to a Home Baby as a gift. … I copied her later and tried to play the joke on another little Home girl. I thought it was funny at the time…. Years after, I asked myself what did I do to that poor little girl that never saw a sweet? That has stuck with me all my life. … "

Locals suspect that the number of bodies in the mass grave, which will likely soon be excavated, may be even higher than 800.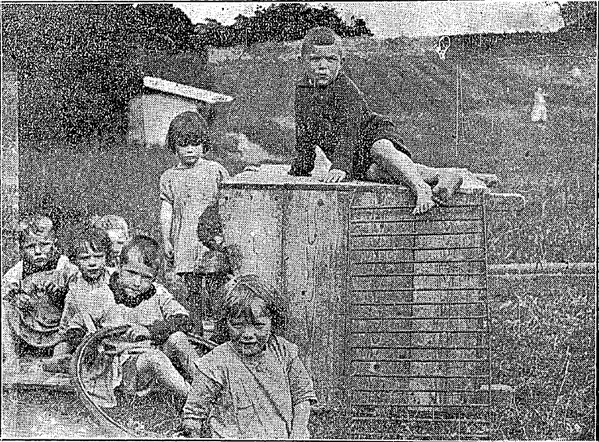 A photo of some of the children at "the Home" in 1924 (Connaught Tribune, 21st June 1924)