Irish police are now "investigating" Stephen Fry ["Jeeves"] for blasphemy.
Here's a video of the television interview that caused offense: Stephen Fry on RTE, the partly state-owned Irish national public broadcaster, in February 2015.
From Wikipedia:
In Ireland, blasphemy against Christianity is prohibited by the constitution and carries a maximum fine of €25,000; however the offense of blasphemous libel, last prosecuted in 1855, was ruled in 1999 to be incompatible with the Constitution's guarantee of religious equality. A controversial law was passed on 9 July 2009 and went into effect on 1 January 2010. The law prohibits publishing or uttering "matter that is grossly abusive or insulting in relation to matters held sacred by any religion, thereby causing outrage among a substantial number of the adherents of that religion".
No charges have been brought under that law until possibly now.
Stephen Fry is being "investigated"  – after all this time – but how likely is he to be prosecuted?
The complainant who set the wheels of justice turning in the case accused Fry not of blasphemy but of "defamation". Blasphemy comes under the heading of Defamation in the Act, and is a crime.
Usually, defamation is a matter for civil action. But can someone sue someone for defaming someone else? Especially when the someone else is of dubious existence and no fixed address, so he cannot be subpoenaed to testify.
Hmm. But it would be delightful to hear Fry's accusations repeated in court. And as long as his accusers insist that "God" is real, and really did create everything, how will they answer the defense that Fry's accusations of his evil-doing are true and that by their own claims he is responsible for them?
It's a fascinating encounter between moral indignation (Fry's) and moral hypocrisy (his accusers').
*
Update May 10, 2017:
Gardaí [the Irish police] have decided not to proceed with a blasphemy investigation against Stephen Fry after they failed to find a large group of people outraged by comments he made on an RTÉ show. …

Under the controversial legislation, introduced by then Justice Minister Dermot Ahern in 2009, it is illegal to publish or utter a matter that is "grossly abusive or insulting in relation to matters sacred by any religion, thereby intentionally causing outrage among a substantial number of adherents of that religion".
How many make "a substantial number"?
That the gardaí are not revealing.
Children's Home, Dublin Road, Tuam, Ireland circa 1950. (Courtesy of Catherine Corless/Tuam Historical Society)
This heart-searing story comes from the Washington Post.
In a town in western Ireland, where castle ruins pepper green landscapes, there's a six-foot stone wall that once surrounded a place called the Home. Between 1925 and 1961, thousands of "fallen women" and their "illegitimate" children passed through the Home, run by the Bon Secours ["Good Help"] nuns in Tuam.

Many of the women, after paying a penance of indentured servitude for their out-of-wedlock pregnancy, left the Home for work and lives in other parts of Ireland and beyond. Some of their children were not so fortunate.

More than five decades after the Home was closed and destroyed — where a housing development and children's playground now stands — what happened to nearly 800 of those abandoned children has now emerged: Their bodies were piled into a massive septic tank sitting in the back of the structure and forgotten, with neither gravestones nor coffins. …

The grim findings, which are being investigated by police, provide a glimpse into a particularly dark time for unmarried pregnant women in Ireland, where societal and religious mores stigmatized them. Without means to support themselves, women by the hundreds wound up at the Home. …

Malnutrition and neglect killed many of the children, while others died of measles, convulsions, TB, gastroenteritis and pneumonia. Infant mortality at the Home was staggeringly high. …

Special kinds of neglect and abuse were reserved for the Home Babies, as locals call them. Many in surrounding communities remember them. They remember how they were segregated to the fringes of classrooms, and how the local nuns accentuated the differences between them and the others. They remember how … they were "usually gone by school age — either adopted or dead". …

A 1944 local health board report described the children living at the Home as "emaciated," "pot-bellied," "fragile" and with "flesh hanging loosely on limbs." …
The historian Catherine Corless, who uncovered the septic tank grave, remembers the Home Babies:
"If you acted up in class, some nuns would threaten to seat you next to the Home Babies." … She recalled one instance in which an older schoolgirl wrapped a tiny stone in a bright candy wrapper and gave it to a Home Baby as a gift. … I copied her later and tried to play the joke on another little Home girl. I thought it was funny at the time…. Years after, I asked myself what did I do to that poor little girl that never saw a sweet? That has stuck with me all my life. … "

Locals suspect that the number of bodies in the mass grave, which will likely soon be excavated, may be even higher than 800.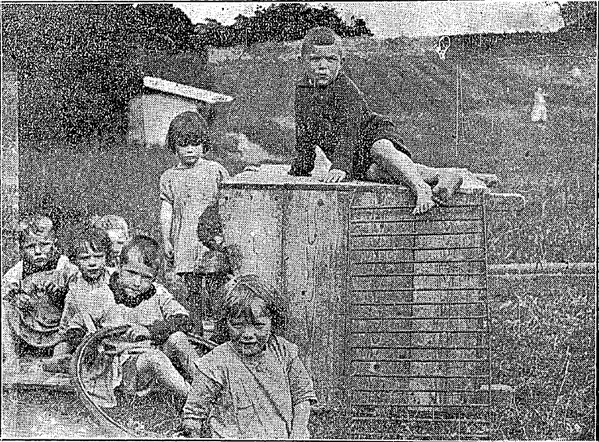 A photo of some of the children at "the Home" in 1924 (Connaught Tribune, 21st June 1924)
Such a transformation has come upon Ireland, not long ago so staunchly Catholic.
When did it come? With prosperity? With mass immigration?
From Creeping Sharia – a website we recommend to our readers – we learn this:
Ireland is to hold a referendum on removing a blasphemy ban from the constitution, the justice minister announced yesterday.

At the beginning of the year, the republic introduced legislation making blasphemy a crime punishable with a fine of up to €25,000 (£22,800).
Interesting that the constitutional ban needed to be augmented by legislation. And then, so soon after the new law is passed, the referendum is proposed.
The law defines blasphemy as "publishing or uttering matter that is grossly abusive or insulting in relation to matters sacred by any religion, thereby intentionally causing outrage among a substantial number of adherents of that religion, with some defences permitted".

The referendum will be held this autumn.

The advocacy group Atheist Ireland welcomed the decision today. When the law became operational, Atheist Ireland published 25 blasphemous statements on the internet to challenge it, including Richard Dawkins calling the Old Testament God a "petty, unjust, unforgiving control freak; a vindictive, bloodthirsty ethnic cleanser; … a capriciously malevolent bully" …

Atheist Ireland chairperson Michael Nugent said: "This is a positive move by the minister. We look forward to the autumn referendum as part of our overall campaign for an ethical, secular Ireland. We ask all reasonable citizens to work together to ensure that the referendum is won.

"We reiterate that this law is both silly and dangerous: silly because it is introducing medieval canon law offence into a modern pluralist republic; and dangerous because it incites religious outrage and because its wording has already been adopted by Islamic states as part of their campaign to make blasphemy a crime internationally.

"The blasphemy reference is one of several anachronisms in our constitution that will ultimately need to be changed. Other examples are the religious oaths that prevent atheists from becoming president, or a judge, or a member of the council of state."